From: American Heart Association <donate@heart.org>
Subject: [ALERT] Keep e-cigs away from students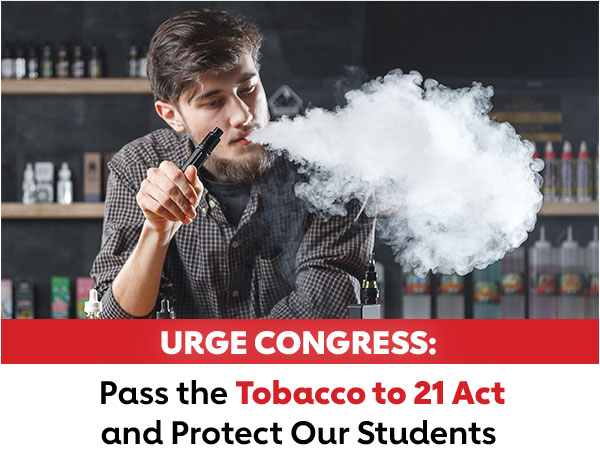 Dear Friend,

Students going back to school in the coming weeks can't wait to spend time with friends again. Inevitably, as they get older, they'll face a critical choice to try smoking or vaping.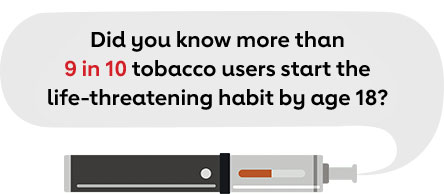 As adults, parents and guardians, we must all work to keep deadly tobacco products away from our youth. Today, 18 states, Washington, D.C., and hundreds of localities have raised their legal minimum sales age to 21. Congress has also responded, introducing the Tobacco to 21 Act (H.R. 2411/S. 1258) in an effort to make it national policy.
But it's not enough.
New products such as e-cigarettes have caused a rise in teen smoking. Nicotine causes lasting adverse effects on brain development, sets kids up for a lifetime of addiction and costs communities billions in medical care and lost productivity.
That's why we're reaching out to everyone who has supported the American Heart Association in the past. Can we count on you again today?
Friend, 75% of American adults favor raising the tobacco age of sale to 21, including 7 in 10 smokers.
We need you to reach out to your representative today and ask them to protect our students by passing the Tobacco to 21 Act in the House immediately.

Many thanks,

Bert Scott
Chairman of the Board
Volunteer, 22 Years
American Heart Association – American Stroke Association
© 2019 American Heart Association Inc. – also known as the Heart Fund. All rights reserved.
Unauthorized use prohibited.The American Heart Association is a qualified 501(c)(3) tax-exempt organization.